Install a large wine cellar of any size.
What is a large wine rack or large wine cellar?
Whether it is 100 bottles, 1,000 or 10,000 bottles, the answer we would give is that someone somewhere will have a larger collection of wines and someone will have a smaller one.
There are many large wine cellars that are owned by private individuals, universities and restaurants. A couple of the most famous people with large wine cellars are Andrew Lloyd Webber and Alex Ferguson with a wine collection of several thousand bottles. Many of the Oxford and Cambridge Colleges have huge collections of wines that store well over 10,000 bottles. The top Hotels and restaurants have large collections with many storing extremely expensive bottles.
A & W Moore Wine Racks UK have the capacity to design, manufacture and fit any size of wine rack in the UK and we can also send them abroad.
---
For more information about our bespoke wine racks or to discuss design, please call 01159441434 or contact us via our form.
Please include your requirements and approximate dimensions to provide you with a quote.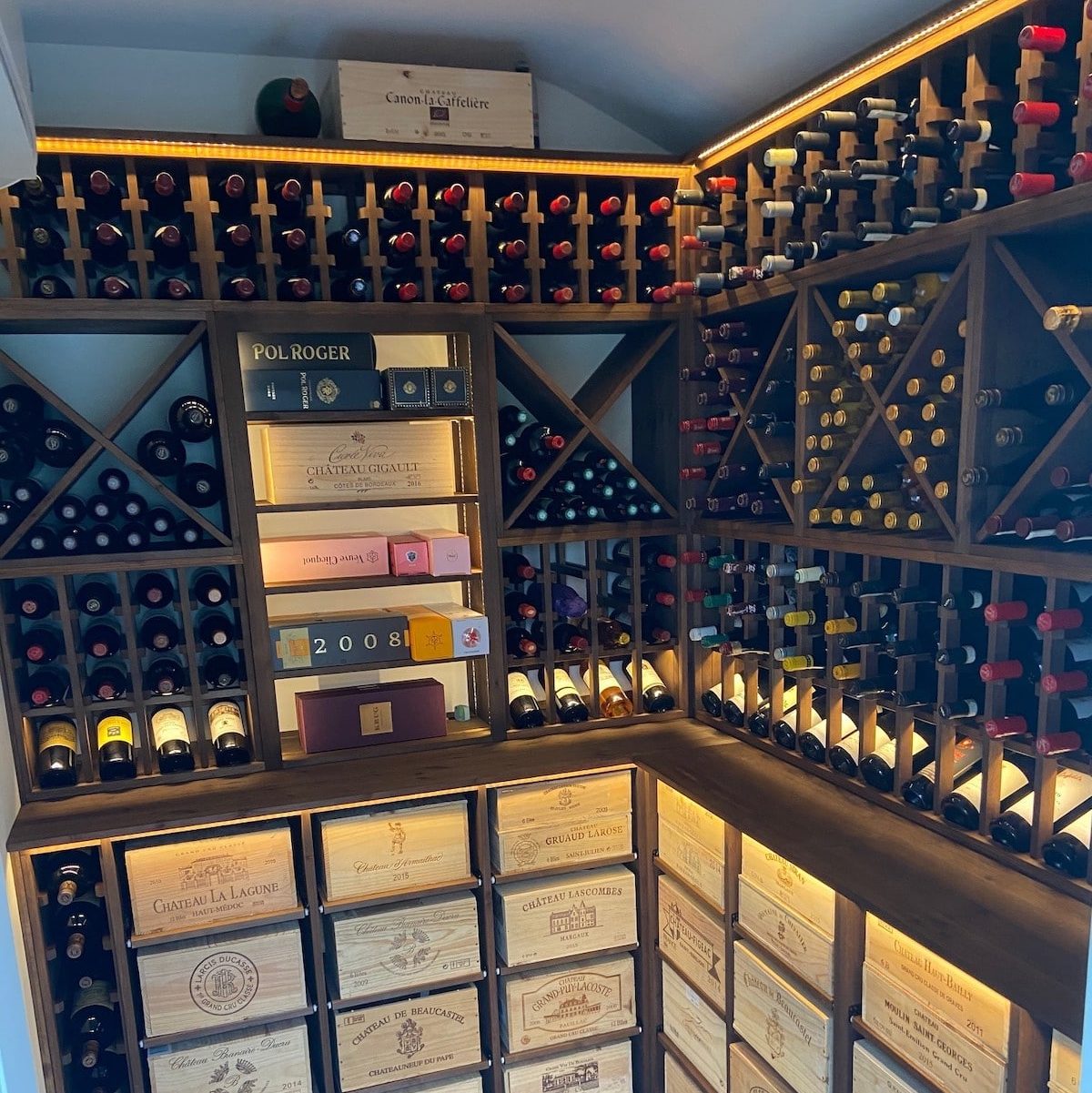 Typical questions on enquiry
1. Approximately how many bottles?
Is storage required for half bottles, magnum bottles, Jeroboam bottles or any other large bottles, imperials double magnums, wooden cases either 6 or 12 bottle cases.
2. How would you like to display your wines?
Is LED Lighting required?
3. What material or design of wine racking appeals to you?
More frequently asked questions
What is the process for large made-to-measure custom wine racks from enquiry to installation?
We discuss with each customer their requirements for wine storage as every requirement will be different.
What is the maximum wine bottle capacity for large wine racks?
We can make the wine racks as large as is needed to fit the space or the number of bottles required. We can just keep joining them together. For transport purposes, we do not make them wider than 1200mm.
What are the size limitations and space considerations when fitting larger wine racks?
We do consider access to the wine room when fitting out wine cellars. The racks are made in sections and joined together once in situ. If there are tight staircases or access is off a narrow corridor we will make the wine racks in smaller sections so that they can be joined together once in situ.
How many bottles can be stored per square metre?
You can store 70-100 bottles per square metre depending upon the design and type of wine rack used. If double depth wine racks are used where one bottle is behind another the capacity is doubled, 140-200 bottles per square metre
Will a larger wine cellar need suitable ventilation and temperature controls?
If the cellar is underground and there are no sources of heating from other parts of the house, the cellar should keep a constant temperature of 12-14°C. Above ground, wine stores will need a cellar conditioner which we can give advice on the most suitable unit depending on where it is situated in the property and the size of the wine cellar.
Will Champagne bottles or Magnums fit in the wine racks?
We can make special wine racks for magnum bottles and other large-format bottles. The standard wine racks will hold Moet style champagne bottles.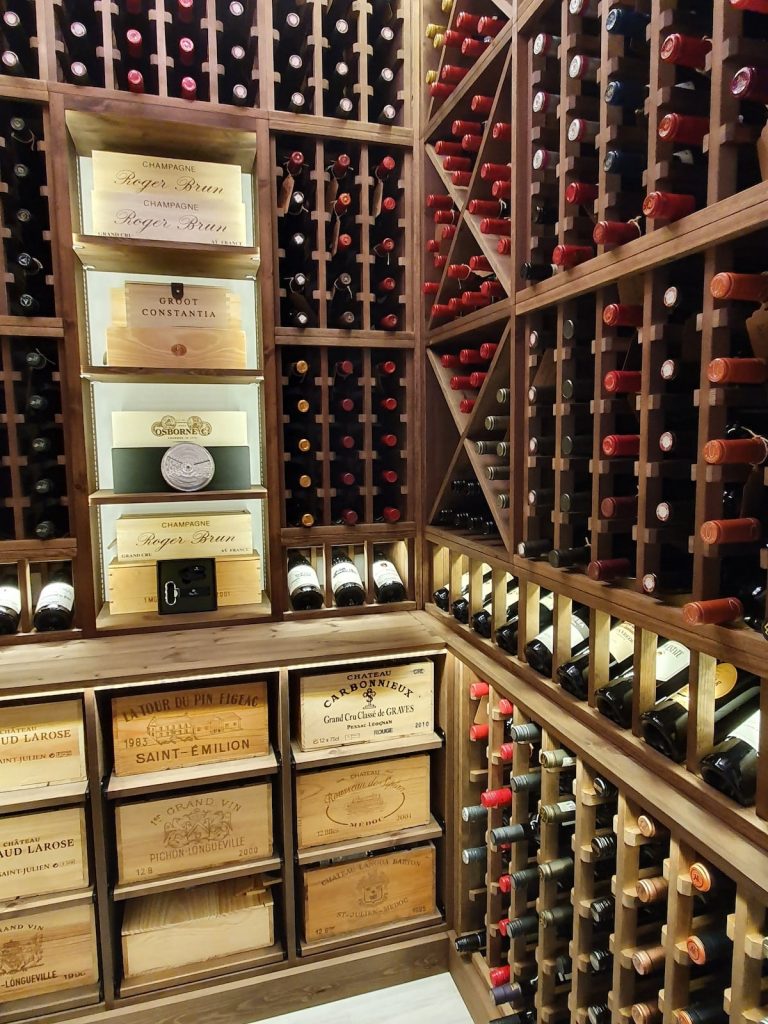 How many wine bottles can you fit into a large capacity wine cellar?
How big is a 500 bottle wine cellar?
A room 1.0 m deep x 2m wide x 2.5 high would hold about 500 bottles depending upon the design and type of wine racking
How big is a 1,000 bottle wine cellar?
A room 1.5 m x 1.5m x 2.5 high would hold about 1,000 bottles depending upon the design and type of wine racking
How wide can the wine rack be?
The wine racks can be as wide as you need to fit the space. We just keep joining them together.
How high can wine racks be stacked?
Depending upon the design we usually do not go any higher than 3m. Access becomes difficult for tall wine racks, however, we can manufacture a ladder to reach the top bottles.
Case Studies
Below are examples of recent large wine racks supplied and fitted by A & W Moore Wine Racks UK.