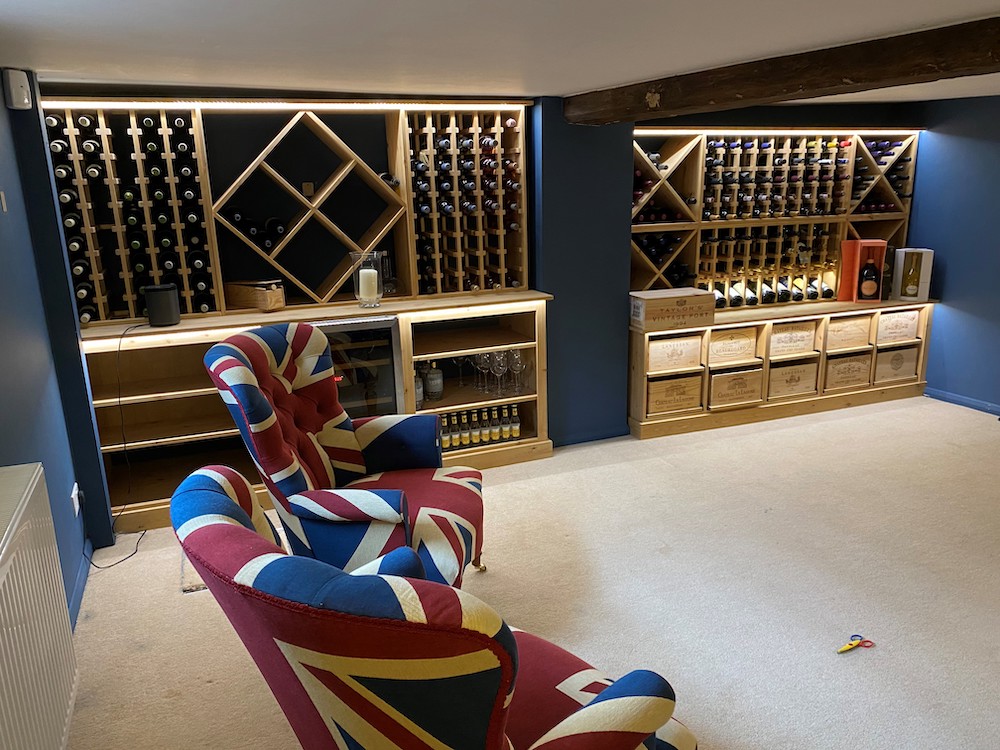 Case Study: Wine Cellar Fit-Out Process
We recently had the challenge of a potential wine cellar fit-out (4 walls) with a light coloured pine and oak wine rack system.
About Wine Racks
Based in Derbyshire, the team at Wine Racks UK has over 40 years of experience in designing, manufacturing, and installing bespoke wine storage solutions. During this time, the family-run business has gained a reputation for quality products at affordable prices. 
We help customers convert damp unusable cellars into beautiful climate-controlled state-of-the-art wine cellars-room that perfectly preserve wine or Champagne, and we help couples make the most of unused under-the-stairs spaces for wine storage. We've helped business owners from luxury hotels to beautiful countryside restaurants and Parisian wine bars.
---
For more information about our large wine rack or cellar design service, please call 01159441434 or contact us via our form.
Please include your requirements and approximate dimensions to provide you with a quote.
Aside from designing the layout, Wine Racks UK advises on everything from cooling systems to lighting options, the type of materials to use (solid oak, solid pine or wood and metal) and storage solutions for different sized bottles. Specialist storage options can be created for wooden Bordeaux boxes to large format bottles, half size bottles and Brandy or Rum.
Wine cellar fit-out briefing details
The cellar was tanked, dry and cool – the temperature was constant with ventilation.
They wanted to source empty cases or boxes together with a wine barrel that could be used as a table to stand at. Also, they wanted to integrate an existing half (waist) height wine fridge in the layout.
The customer's initial comments
There are four walls as described within the client's initial brief, with a floor-to-ceiling height of 177cm.
Wall 1 = 210cm width
Wall 2 = 216cm width
Wall 3 = 202cm width
Wall 4 = 110cm width
Wall 4 was also an entrance to another room so the rack would need to be less than that so as to not be an obstruction and stick out.
We created a visual representation of the new wine cellar and provided a quotation as given below
256 x holes of solid oak modular wine racking with chamfered ends for individual standard bottles.
17 x holes of solid pine modular wine racking for displaying individual standard bottles.
8 x solid pine wine cubes holding bottles in total (24 bottles in each cube).
1 x solid pine shelf unit with adjustable glass shelves and side vertical display.
2 x solid pine base units with adjustable wooden shelves.
10 x solid pine case racks each 2 cases high and holding 2 cases in total on slide out trays.

20 x wooden case

The lights require a 13amp 3 pin socket to plug the lights into.

Oak barrel with 800mm diameter glass top 9mm thick
height: 97cm. Approximate diameter at middle: 70cm.Diameter at End: 60cm
This resulted in a 'first-class' service and a very happy customer
Final comments