As manufacturers of all styles of wine racks we are pleased to be able to offer our clients the most stylish range of metal wine racks.
Beautiful Metal Wine Racks
We can design and install a bespoke metal wine rack to fit the most prestigious and stylish of venues.
These installation often take centre stage to display the wine at a hotel, restaurant or private residence.
These wine racks can be purely for display, but can also be built within a wine cellar environment to create the perfect look, as well as carefully storing the wines.
Vintage View Wine Racks
Our Vintage View metal wine racks are wall mounted wine racks that come in various Heights from 3 bottles to 12 bottles and can be 1, 2 or 3 bottles deep.
All racks are made from high-quality steel and finished in a Satin Black (powder coated). All products are finished to commercial quality assured standards.
These wall mounted wine racks are simple to install and can be used to store wine bottles in nearly any space, regardless of height, depth or width limitations.
If you require alternative sizes please Contact Us.
Wood & Metal Wine Racks
These systems are built differently, using wooden blocks to connect stainless steel runners. Visit the following page for more information: Wood & Metal Wine Racks.
Please contact our designer to discuss any type of wine rack project on 0115 9441434 or email us.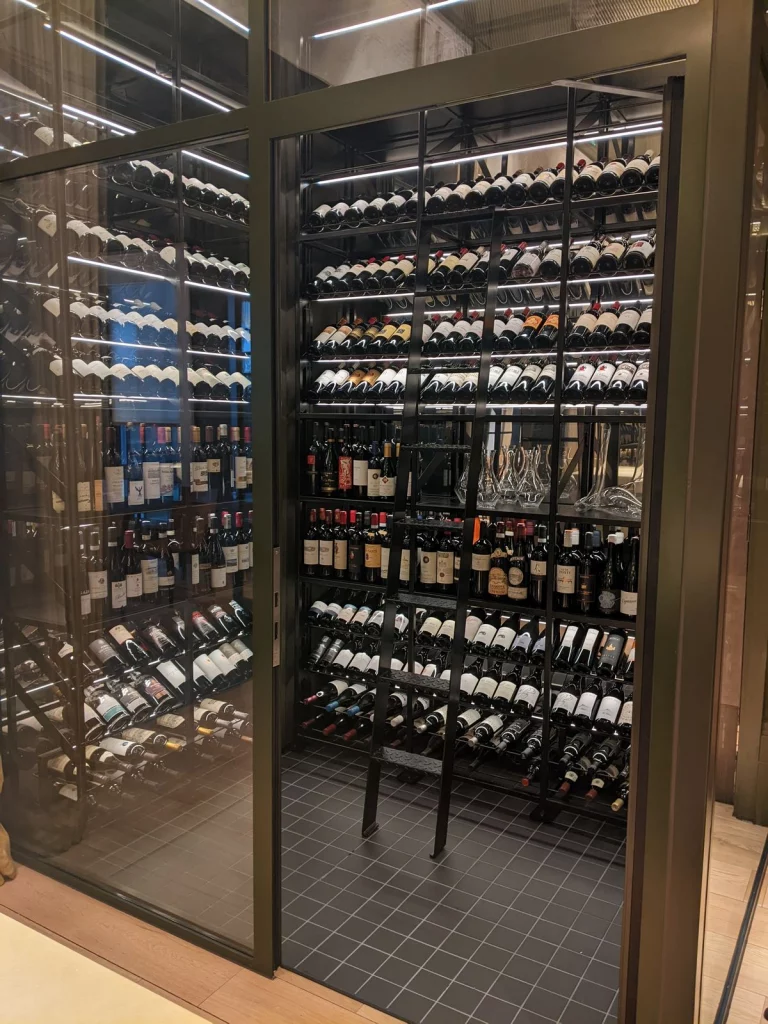 ---
Wall Mounted Vintage Metal Wine Racks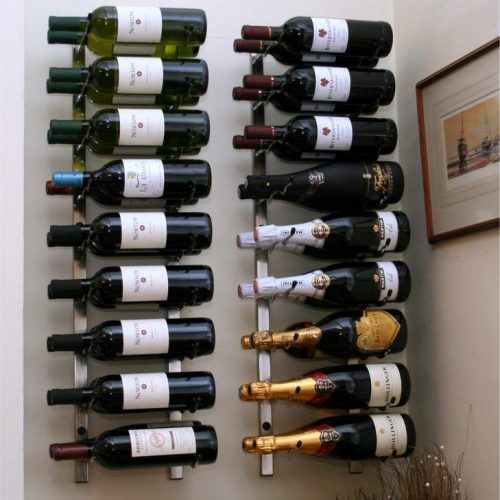 ---
Vino Pins
A stylish, contemporary wine rack perfect for any wall (even finished) in your kitchen, living room or any other social area in the home that can be expanded. This is the only metal wine rack peg system that can mount direct to plasterboard (drywall), masonry or wood — no backer board needed.
The blank wall in your kitchen, living room or entertaining area is a canvass waiting to hold your beautiful wine display. Designed to mount directly to any wall surface with our proprietary anchor systems, Vino Pins are a metal wine rack that offers a stylish and minimalist approach to wine storage for both private and commercial collections of any size.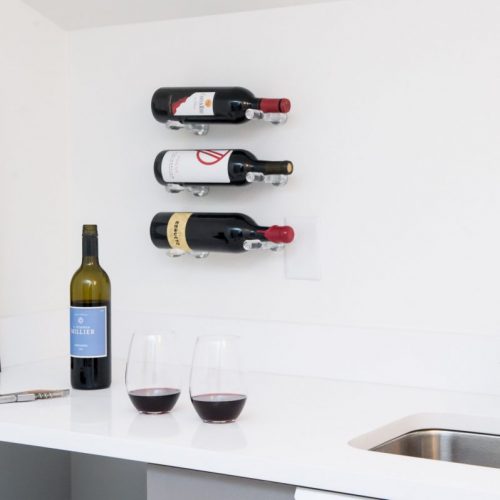 Vino Pins Specifics:
Aluminium mounting collars available (required for all plasterboard installations).
Comes with hardware to attach directly to any plasterboard wall (collars option only) or wood surface (minimum 15mm thickness required)
Holds standard 750 mL, 375 mL and 1.5 L bottles.
Available in milled aluminium or anodised black finish
Easy-to-assemble wall-mounted racks
Build storage capacity by the bottle
Vino Pins Acrylic Specifics:
Acrylic mounting collars available (required for all plasterboard installations)
3mm mirrored disc included for behind clear collar
Comes with hardware to attach direct to wood surfaces or with collars option, to any plasterboard wall (minimum 15mm thickness)
Holds standard 750 mL, 375 mL and 1.5 L bottles
Commercial strength acrylic construction
Easy-to-assemble wall-mounted racks