Wine Racks UK specialise in building bespoke wine racks and wine cellar designs using a computer generated 3D wine rack design service.
Based in Derbyshire, the team at Wine Racks UK has over 40 years of experience in designing, manufacturing, and installing bespoke wine storage solutions.
Our service converts a blank canvas into wine rack designs and wine cellar designs that can look like works of art, but that also remain functional and fit for the purpose.
As we design and make everything bespoke an in the UK anything is possible.
3D Wine Cellar Design Service
Initial Wine Rack and Wine Cellar Design Consultation
We use our computer aided design to make your ideas become reality before manufacture.
Our process includes initial consultations about design and functionality on site, which is followed by accurate measurement of a space to fill or a complete cellar.
Working with our designers we create a 3D wine rack or cellar design so you get a clear visual guide of what your cellar will look like before fitting and design finalization
Our wine cellar / rack design process allows you to become the designer, giving you a feel for your future wine room and its idea of capacity, materials and aesthetics.
For example of our wine / cellar design service see our page, wine cellar ideas.
---
For more information about our large wine rack or cellar design service, please call 01159441434 or contact us via our form.
Please include your requirements and approximate dimensions to provide you with a quote.
Design and Planning Advice for Wine Cellars
Aside from designing the layout, Wine Racks UK can advise on everything you need for a Wine Cellar or storage space.
This include
Which is the best cooling systems for your space
The best lighting options
Your options for the type of materials to use (solid oak, solid pine or wood and metal)
Advising on the number of bottles you want to store at the wine cellar design stage
The type and size of bottle you are likely to store.
Making design decisions on cellar and wine rack solutions about lighting can be important in creating a focal point.
LED lighting can also be used inside the wine rack to add more style and highlight special bottles of wine.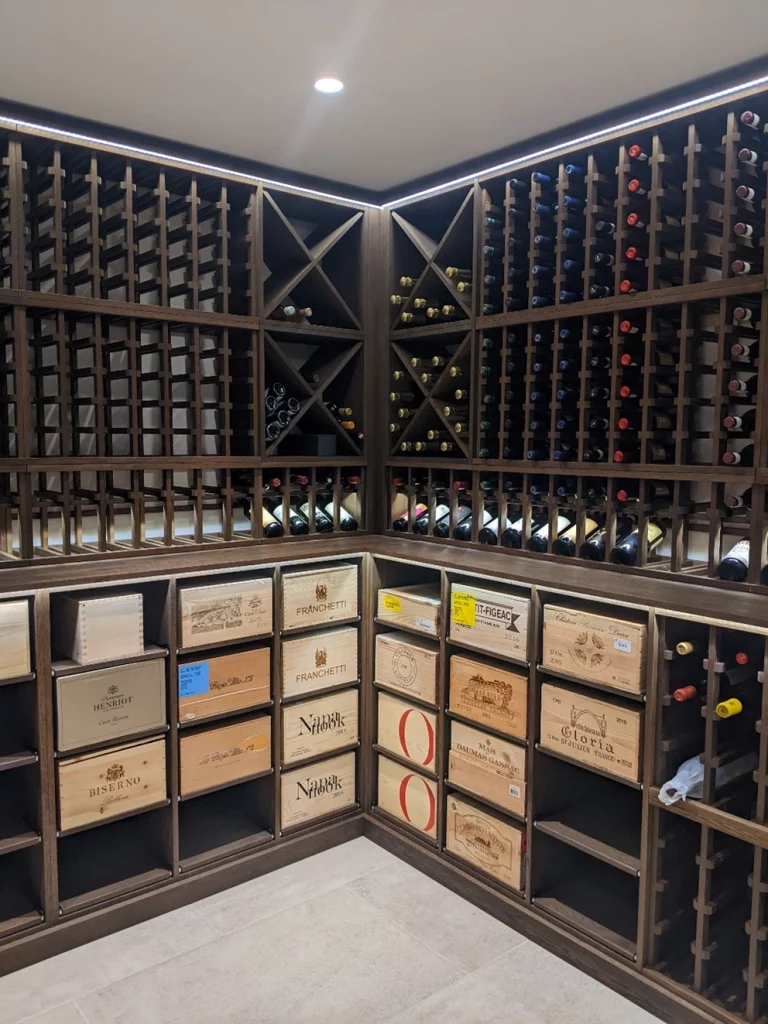 Wine Rack Design Service for Bars and Restaurant
The team at Wine Racks have many years experience designing beautiful wine racks for bars, restaurants and hotels.
This often includes designing 'statement' wine racks for a restaurant to show off their extensive wine selection.
If you are looking for a beautiful custom built wine rack design then please do not hesitate to get in touch.
Customer review/comment
'The team at Wine Racks designed and fitted a bespoke wine rack for a bar we have just opened. They were so helpful from start to finish and worked with us to ensure we got the best use of the rack (not just for storing wine!). They went through lots of initial ideas to come up with the perfect solution for us as well as our own input. It was a seamless process.'