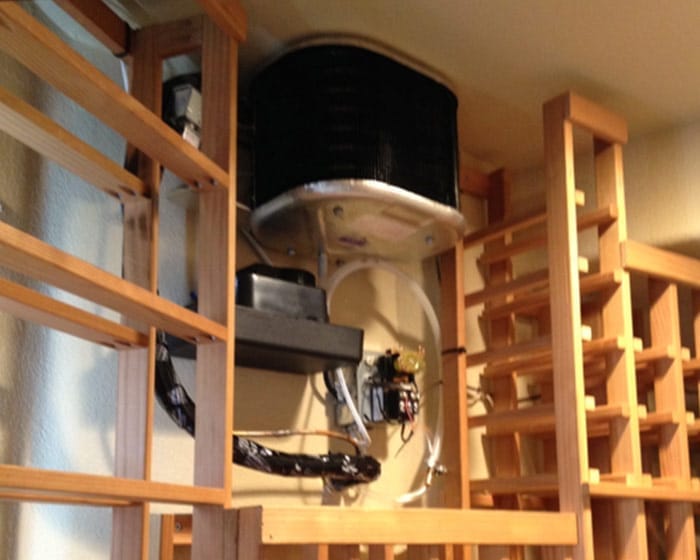 How to Choose the Perfect Wine Rack
Wine racks are a fantastic way to store wine, and great options are available on any budget. As well as looking good, they, along with good temperature control, will help to keep your wine in optimum condition, and they can be used to enhance or organise a cellar, or simply for easy access in living areas.
If you're a wine-lover looking to take your collection to the next level, there are several factors involved when deciding on the right wine rack. Here at A&W Moore, we supply both off-the-shelf and made to order wine racks, so you'll be sure to find the perfect one for you:
Size
Triangular wine rack
Obviously the size of your wine rack will depend on the size of your collection, but also on where you will be placing it. Wine racks in large storage areas, such as basements or cellars, will naturally be able to have a larger capacity than those in smaller kitchen areas, but space saving racks, such as our double depth wine rack, and triangular wine rack for storage under stairs or archways, offer great ways to maximise your storage.
Unless you are buying a pre-made wine rack to store a specific number of bottles, you'll need to consider the precise measurements of your space and the number of bottles you need to store. Our handy wine calculator has been created for just this purpose, and our wine rack dimensions chart and custom design chart are also on hand to help you with your choice. If you are looking for something unique, we can build a wine rack for you to any size to match your requirements.
Use
Champagne wine rack
Consider whether your wine rack will be used for display as well as storage. If your wine will be on show, you should contemplate whether a display cabinet or showcase wine rack would be most suitable. If, however, you simply require a wine rack for storage purposes, one of our standard wine racks may be the best option.
If you are storing wine which is not of a standard bottle size, such as champagne, you will require a purpose-built rack to accommodate it. Our champagne wine racks are made to order, and can house champagne bottles ranging from 75cl, to 15 litres.
Finally, you should decide whether your wine rack will be free-standing or built-in. Our solid oak wine racks can be tailor made to fit any space, whereas our cabinets, showcase range, and traditional wine racks are more suitable for freestanding use, allowing you to relocate your storage as required.
Material
Bespoke solid oak wine rack
Material is a key consideration for your wine rack, as it will affect the look, and cost, of your rack, as well as the storage of your wine. Solid wood is very desirable, and great for traditional style spaces, but it is not always practical, particularly if you are storing your wine in an area which is prone to damp conditions. Similarly metal wine racks may have the undesired effect of warming your wine when used in hotter areas, but if temperature is not a concern, they fit in perfectly with more contemporary properties, and will be easier to relocate or update than solid wooden racks.
A&W Moore manufacture a large range of wine racks in a variety of different materials. We supply bespoke wine racks in solid oak and solid pine, as well as combination wine racks, made with a oak, pine or mahogany and a choice of galvanised or stainless steel.
We hope you have found this guide useful. You can view our full range of wine racks and cabinets online. If you would like to request a quote for your wine rack, or require any help with your selection, please get in touch with us, and we'll be happy to provide all the help and advice you need to complete your purchase