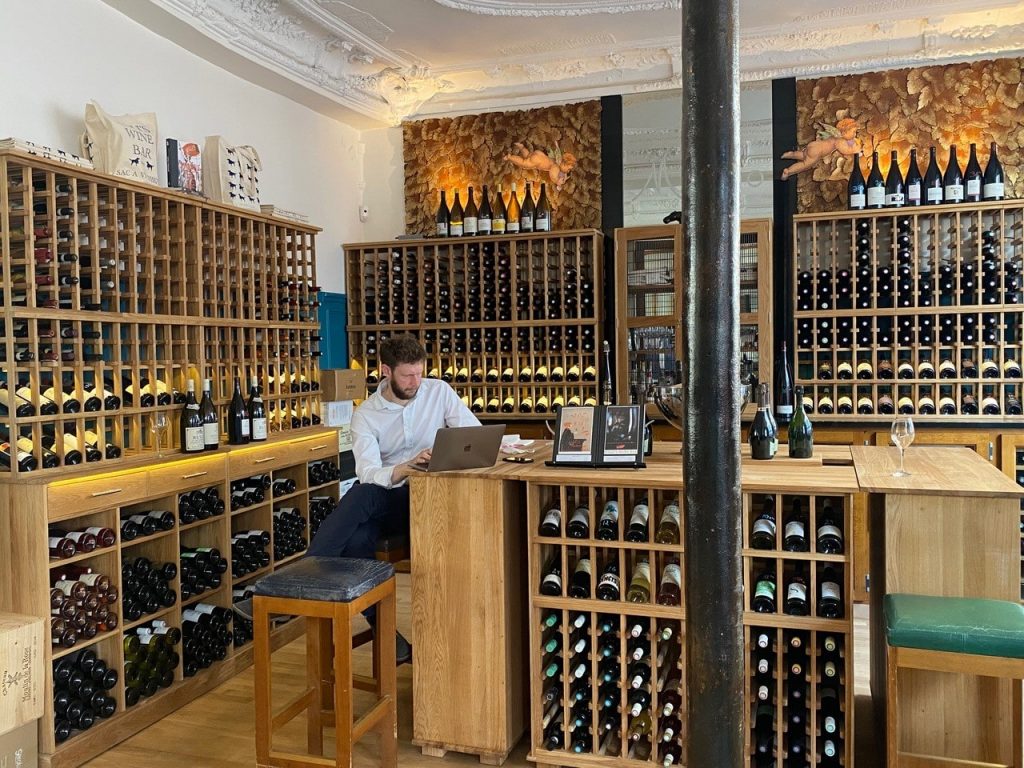 Case Study: Pivoting during the pandemic
From Classic Parisian Bar to Chic Wine Shop
Business owners around the world have had to 'pivot' because of the pandemic. Whether that means changing direction, entering new markets, or changing an existing product range, it has been challenging for the business community.
When the owner of Willi's Wine Bar contacted A & W Moore Wine Racks UK (Wine Racks UK) to help them convert an existing bar space into a chic wine shop to help future proof the business, the team gladly accepted the unusual challenge.
About Wine Racks
Based in Derbyshire, the team at Wine Racks UK has over 40 years of experience in designing, manufacturing, and installing bespoke wine storage solutions. During this time, the family-run business has gained a reputation for quality products at affordable prices.
We help customers convert damp unusable cellars into beautiful climate-controlled state-of-the-art wine cellars-room that perfectly preserve wine or Champagne, and we help couples make the most of unused under-the-stairs spaces for wine storage. We've helped business owners from luxury hotels to beautiful countryside restaurants and Parisian wine bars.
Aside from designing the layout, Wine Racks UK advises on everything from cooling systems to lighting options, the type of materials to use (solid oak, solid pine or wood and metal) and storage solutions for different sized bottles. Specialist storage options can be created for wooden Bordeaux boxes to large format bottles, half size bottles and Brandy or Rum.
Challenges and Objectives
A key challenge being faced by Willi's Wine Bar was the fact that they needed to reach customers during the health crisis and if such a crisis arises again. While bars, restaurants, and other leisure venues have been negatively affected by restrictions and lockdown measures, the wine market has proved to be resilient.
This provided an opportunity for the company to pivot. Instead of a casual Parisian bar, a chic wine shop was needed to add another revenue stream and increase the longevity of the business. The brief was clear: they required three fitted units behind the bar, one a smaller central unit with large weave wire mesh across the front to display Cognac, Armagnac, Rum, and other such beverages.
In addition, two side units, which were based on the standard units provided by Wine Racks UK, were needed. In the centre of the space, the company wanted something different. Four easily moveable units that could display Burgundy and Bordeaux bottles but could also be turned to face inward to create a large tasting table.
How Wine Racks UK helped
The project put forward by Willi's Wine Bar was unusual in that the owner had a very clear and detailed plan of what they wanted (in terms of the design and overall look) and what they needed (specific storage space and lighting). This expedited the process, so from the order being placed in March, the units were shipped to Paris in May and were ready to fit.
Typically, the team will guide customers depending on what their needs are, what wines they are planning to store, and the area they will use (a cellar, under the stairs, a restaurant).
Aside from providing advice and guidance, the team pride themselves on being flexible. During the project, the customer was happy with the final result but requested that the mesh on the door be changed to a different material to ensure all the bottles being displayed were visible. Wine Racks UK responded quickly and efficiently to provide a finer mesh.
Results
The result was a bespoke storage solution finished to a high quality that enabled Willi's Wine Bar to transform the existing space into a future-proofed vision. It will help them generate additional revenue for years to come.
Now when guests dine, they have the option to purchase a bottle of wine to take home with them, and customers passing by of an evening can stop to pick up a bottle for a summer picnic or special dinner.
---
A word from Willi
In the world we currently live in, it is one thing to know what you want but entirely another getting it. False starts & blind avenues are all part of the challenge. From March 2020 to today we have tried many new things out – if only to remain entertained. One of these was writing & illustrating a book – instead of having a 40-year party for the wine bar. Fun. As was discovering that people, particularly when confined, enjoy life more in the company of a good bottle of wine. We truly welcomed the opportunity to get to know a whole range of local residents who, until we opened the 'Dépôt de Vin', had never got around to visiting us. A lengthy thought process.
Discovering who did the cooking was just one of the entertaining pastimes of being a wine merchant. Of course, all this fun was not going to waste and the difficulty was really were to welcome this addition to our establishment.
It was agreed that the bar in Macéo next door – a personal favourite spot – had to go with a heavy heart. Plans were laid, drawings were done & the rest would have been history but for the small matter of finding a carpenter for the project. This proved very frustrating until I discovered Wine Racks, a niche company catering exclusively to people who store wine. Did they, post-Brexit, still work in Europe? Yes. Could they meet our requirements? Yes. And fill the order on time? Almost.
The rest is history. I sent Adam the project, he returned the specs and the show hit the road. Honestly…? It could have been easier – but not much!