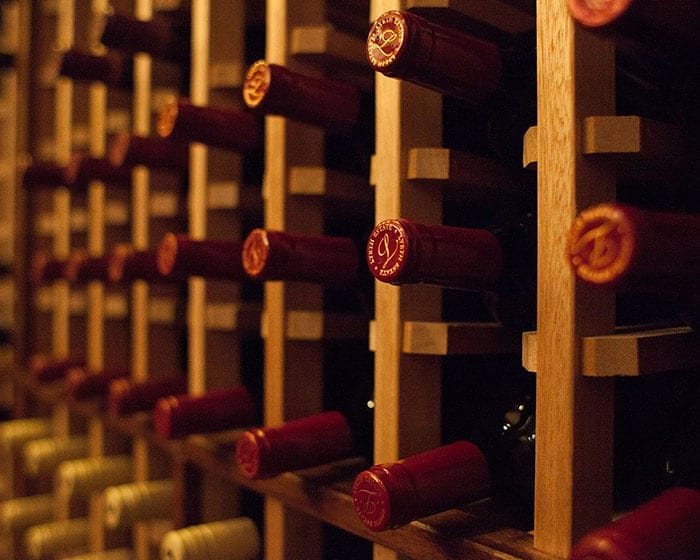 The Best Wines for Christmas Dinner
Choosing wines for Christmas dinner and meals can help refine your menu, and make your guests enjoy your party even more. Christmas now being just around the corner, you are probably already planning your Christmas meals. And as all respectable wine lover would know, there is no good party without a thought about selection of wine.
The trouble is, what bottle do you take out for dinner? Or for the starter? What wine goes well with a Christmas turkey or pudding? How can I make my guests appreciate the various wines to their full extent.
Have no fear, Wine Racks is here to help you choose the right wines for the end of the year festivities. Consider this blog as your guide to festive wine pairings for a Christmas dinner party and more
Which wine to choose for your Christmas dinner?
Many wine lovers and winos think pairing wines for a Christmas Dinner is difficult but you'll find this is not always the case as we break down wine options for the biggest meal of the year.
Pre Meal Drinks
The doorbell rings and your guests begin to arrive, why not greet them at the door with flutes sparkling with prosecco?
Light and refreshing, it is easy to see why it has become the party wine of choice. It greets your guests and sets the tone of the evening, getting things going at a charming casual pace that slowly peels away your guests inhibitions.
The Starter
Foods: Cheeses, Crackers, Cured Meats, Olives, Nuts
The starters have arrived! You might be sitting at the table or lingering in the living room, either way, it's now time to open another bottle! But which one should you chose?
Much like the starters, you want to keep the next bottle light and nothing that will spoil your appetite. Hence, opening another bottle of prosecco or an other sparkling wine, something dry, would be recommended.
You don't want a wine that overpowers your starters in taste and flavour but tickles the taste buds. For your starter wine, you want something that supports your starting dishes rather than something that steals the show, especially this early one in the dinner.
1st Course Wines
Food: Savoury Soup, Green Salad, Fruit Plate
You've now taken your seats and the first course has arrived. Common starters are savoury soups and green leafy salads, both have richer, heartier flavours. Of course, this depends on the soups and salads. So what wine do you open next?
Based on the buttery, creamy flavours of your first course, I would recommend another dry white wine, a Sauvignon Blanc for an example, or possibly a chardonnay. Nothing too empowering or bold just yet, again, you're welcoming your guests still.
Choosing Wines for your 2nd Course/Main Course
Food: Turkey, Game Bird, Roast Vegetables, Nut Roast
Here it is, the main course.
What really dictates the wine for this course is the flavours around your Christmas roast. You needs to consider the spices, herbs and fruits used in this course as well as the gravy. Any roast dinner or Sunday dinner, the gravy takes centre stage for dominating tastes and flavour but at Christmas time this is not the always case as you bring in a range of festive flavours but never write off or underestimate the gravy.
Consequently, a dry, fruity red wine, like a Merlot or Bordeaux would be recommended, if your main course is very rich with spice and cranberry flavours. A fruity, red will really support those festive fruity flavours and add to the meal. A plummy, bold Merlot with a touch of spice would be ideal. The deep fruity flavours would certainly complement the seasonal spices and festive flavours while its boldness will stand well against a rich gravy.
If your main course is less festive and fruity but is richer and more savoury, we would suggest picking a dry red wine. Something like a Pinot Noir or Cabernet Sauvignon, both tasty food friendly wines. A bold Pinot Noir would also be an educated choice, its faint fruit flavours subtly complimenting the meal without overpowering a rich gravy whilst also supporting it well.
Perhaps you're having a festive nut roast for your Christmas dinner with rich spices, seasonings and cranberry flavours. For this, we would recommend a fuller bodied white wine, like a Chardonnay, with subtle oak tones and a refreshing boldness. If you're planning to have a vegetarian gravy with your nut roast, a Chardonnay might overpower it which is why a bold plummy Merlot would probably be best.
Wines for Christmas Dessert
Food: Christmas Pudding, Mince Pies, Chocolate Cake
Now you've reached the end of the meal and dessert has arrived.
If you're going traditional for your Christmas dessert with either a Christmas Pudding or mince pies, or both, go traditional with your wine. Opening a bottle of tawny port could be subtly complement your dessert. Besides not competing with the brandy in pudding, tawny ports are sweet or medium dry, and an ideal dessert wine for Christmas. A sweet sherry, another traditional choice, would also go well with traditional a Christmas pudding or mince pies.
Other Tips for Christmas Dinner and Wines
Temperature – You have guests coming over and you want to serve your wine at the optimal temperature, so check out our guide to the perfect wine temperature for different wines. If you're planning a meal with many different wines, investing in a wine thermometer will save you from heartbreak from ruining a good bottle.
Storage – Besides wanting to store wines correctly, you have guests coming over and want to show off your wines. Having a wine rack is ideal, it invites your guests to peruse your bottles without you coaxing them and keeps them safely stored.