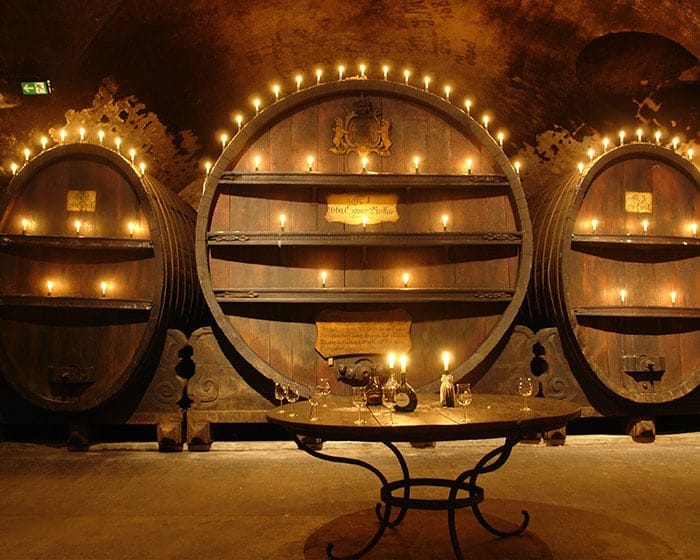 Best Wine Apps Available for Wine Lovers
Wine enthusiasts will all agree, not being able to remember the name of that wine tasted last summer in that small French village's local wine bar or the 3rd one savoured at the Italian vineyard during your wine tasting journey last summer can be rather frustrating.
Questions as to the provenance, year, and grape type of wines are also often asked when dining out or discovering new wines.
This will now change.
With the vast selection of wine apps available for Apple and Android devices, this issue can now be resolved and you will no longer forget that succulent glass of chilled white wine you enjoyed on the beach during a warm summer evening and will be able to relive that memory as you please.
There are so many apps available for all of you wine lovers, which is why, in order to help you select the best one, A&W Moore have picked their 5 favourite wine phone apps to help you grow your wine cellar:
Ever wondered what type of wine would particularly match a certain meal?
Natalie Maclean, the world's best wine drink writer can advise you. She created a very impressive and useful wine application, which will help wine lovers around the world by not only boasting an impressive wine database, it also has fantastic food pairing section, which will enable you to chose any particular bottle, which the app will then pair with a superbly complimentary food dish.
The app also allows you to rate the pairing, based on your taste and if you feel you have any more suggestions on what dishes this particular wine could accompany well, you can even upload your own review and add to the thousands of recipes already featured on the app.
#4 HelloVino
HelloVino is the perfect mobile wine-shopping app that helps you find wines which match your taste, occasion and budget.
And even better, it then tells you where you can buy them nearby.
If you are heading to a dinner party and you're not entirely sure which bottle to offer, or if you have your heart set on a specific one yet are not sure where to get it from, then be sure to download this fantastic app.
Have you ever noticed a bottle of wine which aroused your curiosity, leaving you somewhat perplex, yet never had the audacity to pick it up and try it for yourself as it is not the type of wine you would usually choose?
This will never happen again. At least if you download the HelloVino app, as it will enable you to scan the wine's barcode or simply speak the name of the bottle, to provide you with in-depth information on the wine, and a match will be scored based on its fit with your taste profile, also suggesting delicious food pairing recipes, perfect for your next dinner party.
Another useful feature? Every single one of the wines you decide to try will then be kept in your personal history, to help you remember the ones you especially enjoyed.
#3 Corkz
This app is undoubtedly the most useful when it come to wine comparison.
If you have always had a passion for tasting new wines, Corkz is probably the best app for you. Its CellarTracker database can provide you with detailed information on over 2,500,000 bottles of wine. If you however absolutely know where you stands when it comes to which wines you appreciate and don't, you can use Corkz's barcode scanning technology to rapidly bring up information and reviews on a particular bottle.
Hesitating between two bottles? This app will allow you to compare bottles by ratings and prices amongst other features based on your criteria, as well as enabling you to rate and comment on the ones you have tried, for future personal reference. Avoid buying a bottle you didn't fully enjoy again, and share your opinions through Facebook and Twitter when you do find the crown's jewel.
#2 Vivino
This app is the handiest and easiest to use wine app you could possibly come across.
The Vivino app allows you to create a list of every single wine you try, thereby creating your own personal digital wine cellar & database, also taking into account your personal likes and dislikes.
Never waste an occasion of drinking a fine wine on forgetting how you felt about that 2014 Chardonnay you swore you would never buy again.
This app is also a great and rapid way catalog all the bottle you come across, especially if you fear you are likely to have forgotten the name of that delightful wine by the morning.
Have you ever wanted to know the name of a wine, but haven't dared to interrupt the conversion to ask?
Vivino wine label recognition technology will ensure you never miss out on a great wine again. Whether you are at the supermarket, out for dinner with friends or even just browsing the web, this app has the ability to recognise wines by the label, all you need doing is taking a photo of the bottle and let the app match it. If it does not come back with a match automatically, then the Vivino Wine Recognition Team will manually match it for you.
One last thing. As great minds think alike, what could be better than being able to share your latest discoveries with your friends and family? Vivino does indeed enable you to connect with your close ones to share your various wine experiences, complemented with the "Nearby" feature, notifying you of where to pick up particular bottle amongst your local shops, restaurants and stores.
No one knows you better than yourself. This is why Memorable Wines relies on you own personal tastes, comments, notes and memos to best advise you.
This very sophisticated app creates an unprecedented user experience, allowing you to build up a virtual scrapbook of your finest wine experiences. The app also enables you to record, recall and share information for each wine you try. This includes photos, voice memos, notes, pairings, links and ratings.
Whether you have just tasted your new favourite wine, or have been disappointed by your latest wine tasting experience, Memorable Wines invite you to rate it with a simple single tap, hence also saving you time, which is exactly what you are looking for if enjoying a fine meal with your friends. Tastes evolve with time and experience. This is another fact this app takes into account, allowing you to go back and edit or comment on a bottle you previously rated.
As you can see we are very passionate about everything related to wine and the exquisite experiences you can enjoy from this noble beverage.
This is the reason why we strive to share all of our knowledge about such innovative ideas, which are changing wine tasting and degustation, in order to ensure you truly appreciate every bottle in your collection.
At A&W Moore, we specialise in wine cellar racks, which can be tailor-made to your own cellar, enabling you and potentially your guests to fully admire and enjoy your wines by providing you with optimum storing solutions.