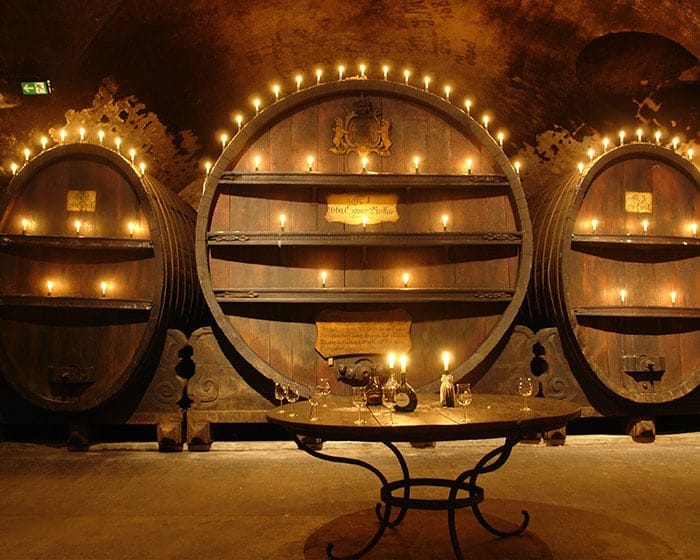 The Top 10 Up and Coming Wine Regions by A&W Moore
There has been some unexpected as well as mainstream production of wine in the past years, yet the popularity of some of those wines has been rather short-term, and other wine producing regions which have previously gone under the radar have now been forgotten.
There has been some unexpected as well as mainstream production of wine in the past years, yet the popularity of some of those wines has been rather short-term, and other wine producing regions which have previously gone under the radar have now been forgotten.
Here are 10 up and coming very promising wine regions worth keeping a close eye on:
1. Soave, Italy
During the 1970s to 1990s Soave was in fact one of Italy's most exported white wines and was so popular, it even surpassed the infamous US Chianti's sales at one point. Sadly, its immense popularity also became its downfall. Due to the high demand and consequent mass production of this wine, the exceptional taste which made its success slowly started to fade, to finally be eclipsed by the world's favourite, Pinot Grigio.
Nowadays, Soave's production has taken a step back, to mainly focus on producing complex and lively flavours from garganega grapes of cru and classico vineyards, hereby gradually making its way back to its old acclaimed standards.
2. Moravia, Czech Republic
The Czech Republic is better known for its delicious beer, yet in the easternmost province of Moravia, just north of the Austrian border, they have been quietly producing some of the world's most beautiful and succulent bottles of wine there is to offer.
In the country's beautiful picturesque landscapes lies the small sub-region of Slovacko, where sandy soils and a cool climate has produced some zesty Rieslings and obscure, herbaceous whites like Muller-Thurgau, Gruner Veltliner and Moravian Muscat. The diversity and quality of the wines produced in this particular region undoubtedly make it one to look at for.
3. Tasmania, Australia
The famous South Australia's Barossa Valley has some fierce competition in the form of the country's overlooked island state of Tasmania, home to some of Australia's most vibrant new wines.
In the stunning northern Tasmania's Tamar Valley, you will find some of the most surprising crisp, dry Rieslings and Sauvignon blancs, as well as fuller-bodied Chardonnays.
With only 160 wine producers across the picturesque island, you're guaranteed a more intimate wine-tasting experience and if you decide to visit the area, you may get even the chance to meet the owners and winemakers themselves. This region is not only rich for the wines it produces, but also for the experience it can offer you.
4. Moldova
Moldova is home to the world's largest wine cellar, Milestii Mici , which has more than two million bottles. Although Moldova winemaking dates back to over 5,000 years, they have gone fairly unnoticed in recent years, unless until now. Located in between Romania and Ukraine, this tiny country produces some of the most underrated and delightful wines there is to offer.
With whites like Rara Neagra, crisp, fruity Sauvignon Blancs and Chardonnays and excellent earthy reds like Saperavis, Cabernet, Gamays and Pinot Noir, this unique little country is most definitely one to keep an eye on.
5. Franciacorta, itlany
As you are probably aware of already, Italy produces some of the world's best new sparkling wines, yet this almost secret place is most likely one you haven't heard of yet.
This particular wine is made using the traditional méthode champenoise, which is a specific way of getting the wine to perfectly sparkle, whilst using the same grape varieties as Chardonnay, Pinot Noir and Pinot Blanc.
Despite the similarities, Franciacorta still remains a distinctly Italian wine and oozes a beautiful creamy texture and ultra-fine perlage which should imperatively be tasted.
6. Swartland, South Africa
Swartland has been overshadowed by its grain producing traits and is often overshadowed by the slightly more famous South African wine-producing districts of Stellenbosch, Paarl and Franschhoek.
But in the most recent years, the region has had a resurgence in popularity which has likely been influenced by the Swartland Revolution, a weekend-long festival held each November celebrating local wine, food and music, attended by wine connoisseurs and food lovers from all across the world.
A large part of the success of this festival can without a doubt be attributed to the quality of the wine the region has to offer, such as truly zesty Chenin Blancs, Smoky Syrahs and daring blends, resulting in some fantastic plummy Pinotages (a cinsault-pinot noir cross unique to South Africa).
7. Michigan Wine Country
Michigan wine country's charm stems from its bucolic and largely undeveloped character comprising just 100 or so small- to medium-sized wineries and just under 3,000 acres of wine-producing vineyards.
Yet the new wines coming out of this highly undervalued region, particularly those from the Leelanau and Old Mission Peninsulas have been greatly appreciated by wine lovers. Some of the standout dry whites like Sauvignon Blanc, Vinho Verde, Pinot Grigio and Chardonnay are consistently produced to perfection to persistently amaze all who taste it.
8. Sicily, Italy
Over the past years, Sicily has blossomed into one of the world's most influential new wine regions, as its ability to produce very diverse wine continues to grow, offering some strong powerful red wines such as Nero d'Avola as well as fresher, more mineral whites including Grillo and Catarratto.
Pantelleria's signature production would however most likely be its Passito di Pantelleria dessert wine, which beautiful amber-colored body delivering bold flavors of apricot, honey and caramel, whilst its bouquet perfectly conveys the warmth, rural and convivial character of this picturesque sunny island.
9. Walla Walla Valley, Oregon and Washington
Oregon's Willamette Valley, an already well established wine producing region has recently been rivaled by the breathtaking Walla Walla Valley, one of the most dynamic and fastest growing wine regions in the United States.
Thanks to its diverse terroir the valley produces a wide range of grape varieties, from subtly smoked to earthier and fuller bodied ones including Cabernet Sauvignon, Merlot or Cabernet Franc, some of the most globally recognised.
10. Bekaa Valley, Lebanon
In recent years, a new generation of producers trained in the world-wide acclaimed Burgundy and Bordeaux regions in France have begun to create wines that are slowly capturing the attention of the most curious, combining traditional methods to an unconventional climate.
Indeed, it is the fertile valley's climate along with its location on an inland plateau 900 meters above sea level that make the region's wine so distinct, producing a wide variety of wines, from plush red blends such as Cabernet mixed with Syrah and merlot to light, floral Muscats and Viogniers.
So, that's a wrap, we like to keep on top of all of the up and coming wine production regions in the world, so we can find some beautiful tipples and give you some advice whilst doing so. We want to share all of our knowledge, historic or innovative, with you, to help you make the most out of every bottle in your collection.
These 10 regions are in our opinion among the best wine producing regions of tomorrow, which is why we are already collecting bottles from across the world. Most wines improve with age, this is a commonly agreed upon fact, yet have to be stored in the right conditions, from temperature, to humidity and light. At A&W Moore, we understand that it is not always easy to find wine racks fitted to different rooms, whether your basement, kitchen or a closet, which is why we strive to offer you the best custom-made and bespoke wine racks.