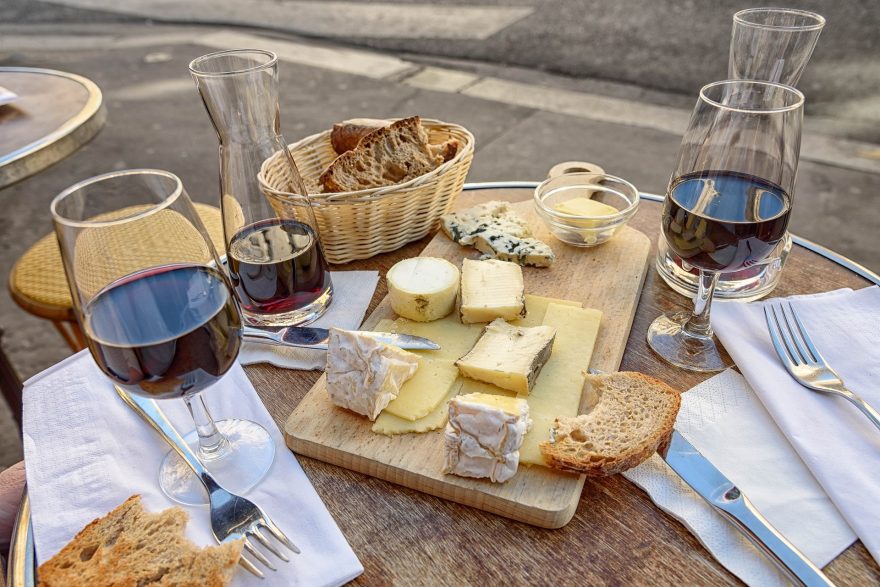 Wine & Cheese Pairing – A Beginner's Guide
The combination of wine and cheese is one of life's greatest pleasures, but finding the perfect match may not be an easy task for beginners. With most food and wine pairings, the sweetness, acidity, body and tannins must be taken into consideration to avoid conflicting flavours. In order to prevent any unpleasant and unwanted taste experiences, this guide can help you understand the art of wine and cheese pairing.
Wine and cheese pairing guide
The possibilities are endless when it comes to wine and cheese pairing, so here are a few exquisite pairings you can experiment with.
Bloomy cheese
Bloomy cheese is generally soft, rich and creamy. Brie, a type of bloomy cheese, matches well with dry, light-bodied white wines, like Sauvignon Blanc, Chenin Blanc and Riesling. These white wines have citrus and grassy notes, which partners well with the buttery and creamy brie. Also, brie makes an indulgent compliment to dry, sparkling wine – the perfect excuse to pop a bottle of Champagne! What's great about white wine or sparkling wines is that they're high in acidity and carbonation, which allows the wine to act as a great palate cleanser after taking a creamy bite of cheese.
Semi-Soft cheese
Semi-soft cheese ranges from mild and buttery, to very pungent in flavour. They don't crumble like hard cheeses, but aren't soft enough to be spreadable. Some cheeses like Gouda are semi-soft when young, but their texture turns hard as they age. As Gouda is very nutty and intense in flavour, it requires a bold partner. A full-bodied wine, such as Cabernet Sauvignon, is tannin-rich, which can help to draw out its intense flavours. The tannins can bind with the fats in the cheese to unlock the herbs and dark fruits found in this wine.
Hard cheese
Hard cheeses are often firm but crumbly when they break, and described as nutty, pungent and salty. Hard cheeses like Vermont sharp cheddar has bold and strong flavours, so it holds well against a full-bodied wine, such as Pinot Noir. Vermont sharp cheddar helps compliment Pinot Noir's drier tones and significantly enhances its interesting, red fruity elements.
Blue cheese
Either love it or hate it, blue cheese is packed with salty and unique flavours. Blue cheese, which contains veins of blue mould, can be soft and creamy, or semi-soft and crumbly. Due to its sharp character, Stilton should be paired with a low-tannin wine, such as a Chardonnay. Chardonnay has buttery, oaky flavours, which can balance out and bring out the intense notes of blue cheese.
Sweeter wines, including Port, Muscat and Late Harvest dessert wines, match wonderfully with stinky, blue-veined cheeses. Sweeter wines can balance the unique "funk" in the cheese and make it taste a lot creamier. Also, the "funk" in the cheese harmonises well and helps counteract the sweetness of the wine.
Goats' cheese
Goats cheese is creamy and distinct in flavour. There's a wide variety of goats cheese, which ranges from soft and spreadable fresh cheese, to salty, crumbly, aged cheese. Sauvignon Blanc and Pinot Grigio are fruity and zesty white wines, which can be served with aged goats cheeses, like Tomme. These white wines have features that help equalise the richness of the cheese and enhance the wine's fruity flavours.
General pairing tips
As every one of us has our own individual palette, don't be afraid to be adventurous and experiment with various wine and cheese pairings! Creating your own pairing can be daunting at first, but it can make you feel very content once you have found a magical combination that you love.
To successfully find the perfect wine and cheese match, you need to consider some general rules:
Both wines and cheese should have equal intensity, which means you should pair a strong wine with strong cheese, and a lighter wine with mild cheese. If you find that one of the flavours dominates the other, the taste experience will not be pleasant.
Soft, creamy cheeses are incredible with a sparkling wine or white wine that has a light hint of oak. White wines usually have low levels of tannins, so they complement gentler flavours without overpowering them.
Aged cheeses that are over six months are best served with a full-bodied wine, to compliment the bold flavours. The water content reduces, whilst the fat content increases over time as the cheese ages, which makes it richer in taste – the fat content in the cheese can counteract the high-tannins in the wine.
When in doubt, choosing a firm, nutty cheese is your safest bet, as they're most suited to all types of wine. The cheese will have enough fat to balance out the tannin in red wine, as well as delicate enough to compliment white wines.
If you would like to discuss wine storage options, including bespoke wine racks, contact us today.