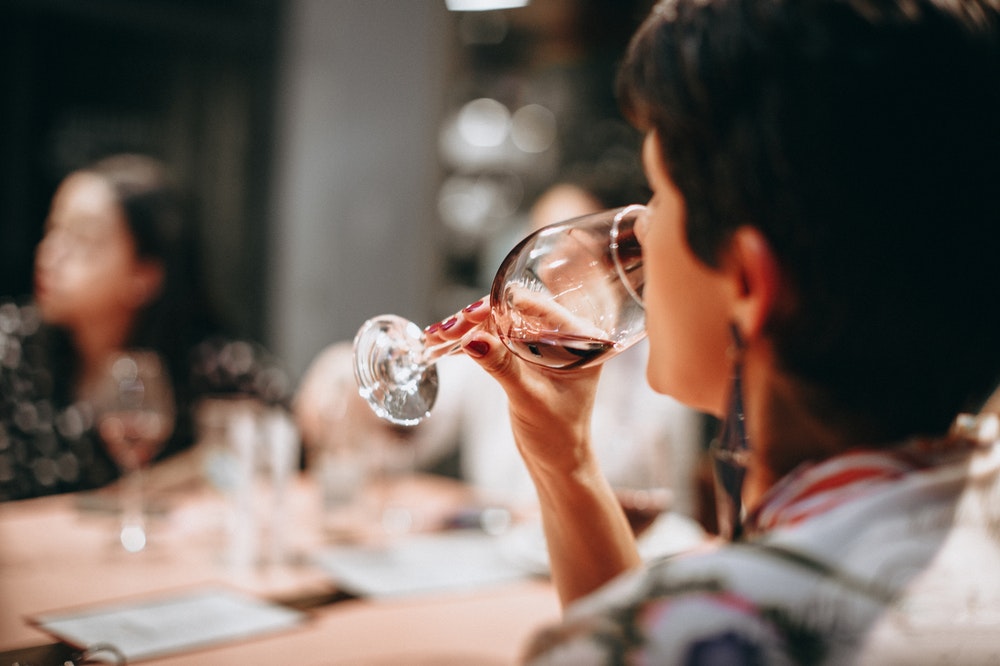 Wine Tasting At Home: A Beginner's Guide To Hosting The Ultimate Event
Whether you consider yourself to be a wine connoisseur, a novice, or someone who simply loves hosting fabulous events, this guide will help you host the ultimate wine tasting event at home or online.
In this beginner's guide, you will learn how to organise your event, which wines to serve and the best nibbles to accompany them, and how to set up your tasting. There will also be a section dedicated to hosting a virtual wine tasting.
The latter option is ideal if you live away from your friends and want to catch up from the comfort of home. It's also a great way to stay connected during lockdown or periods of isolation. Here is a breakdown of the guide:
Common questions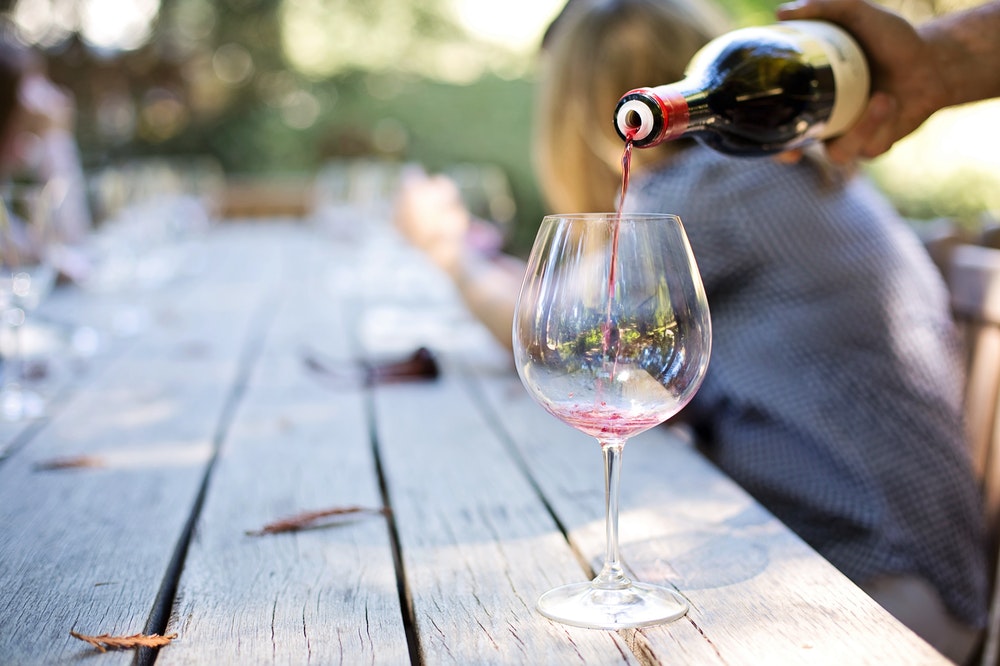 How do you host a wine tasting at home?
There are a few things to consider when planning your wine tasting, including whether you will host it in-person or virtually. This guide provides you with a starting point so you can begin planning without feeling overwhelmed.
Consider the space available. Do you have a large table that you can use as a tasting table? How many people can you invite? Is there room in your fridge to store the wine? 6-12 is the recommended group size for a wine tasting
What atmosphere do you want to create? Cosy, formal, chic
Do you have enough glassware? It may sound obvious, but this is a good starting point when planning your event
Will the tastings be blind? Do you and your guests want to drink the wine, or spit it out after sampling?
What theme interests you? You could select a region, a year, a producer, or type of wine
What nibbles will you provide to accompany the wine? Will you serve a meal at the end of the tasting? You can find out more about selecting the best nibbles in this guide
How seriously do you want to take the scoring process? Will you provide each guest with a pen and paper?
Once you've answered the questions above, you will be ready to host a wine tasting night. Picking a theme is one of the most important considerations. There is no wrong answer. Simply decide what is best for you. If this is potentially the first of many wine tasting events, you could choose one region this time and another the next.
Decide what nibbles you will serve during the tasting and whether there will be a meal at the end. Again, there is no wrong answer. Decide what is best for you based on the space available to you and the number of guests you plan to invite.
Ensure you have the correct amount of glassware, supplies, including a wine bottle opener, and anything to enhance the atmosphere of your theme. Once you've completed these steps, you are ready to choose a date and time and invite your guests.
How do I organise my wine tasting?
You've picked a theme, you've bought the perfect nibbles to be paired with your wine, your friends are on the way, so how should you organise your evening? Preparation is key. Ensure you have a large enough space for the tasting. If you are creating a formal atmosphere, why not add place cards so your guests can be seated on arrival? Alternatively, create a space for each guest with a plate of nibbles, several wine glasses, and a pen and paper.
All that is left is for you to give everyone a warm welcome and explain how the evening will proceed, including if the tastings will be blind. It will be useful to provide information on each wine, regardless of whether you are aiming for an educational or social evening.
Setting up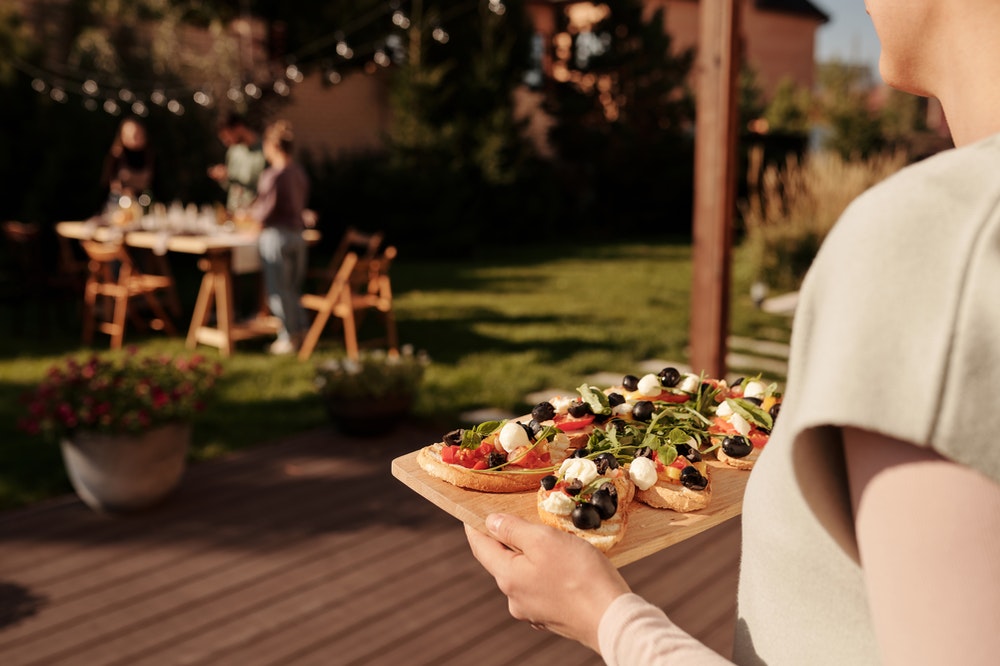 What should I eat before wine tasting?
The aim is to keep your palate neutral before a tasting so that you can get the most from the experience. Eat a couple of hours before, but not too close to ensure your senses are heightened. It is recommended you avoid strong flavours, spices, or anything that will freshen your breath, as it may unsettle the pH balance of your mouth.
What nibbles go well with wine?
With so many delicious nibbles to choose from, it's hard to decide what will work for your soiree. However, consider bland options such as crackers and bread during the tasting so as not to interfere with the palate of those taking part. Once the tasting has finished, indulge in your favourite nibbles or a meal to celebrate the successful evening. It is also recommended to drink water after sampling each wine to help cleanse the palate.
How many wines do you taste in a wine tasting?
Six different wines are recommended for a tasting; however, you could choose more (up to 12). 
Whatever you decide, it is worth keeping in mind how many guests you are planning to invite, the theme you've opted for, the space available to store your wine, and if you have enough glassware for the number of wines you intend to sample. For a party of between 8-10; it is advised you purchase two bottles of each wine.
How do you start a wine tasting?
As with any event you are hosting, you will want your guests to feel comfortable and aware of what is going to happen. Begin by serving crackers or a palate-cleansing drink before explaining the theme, the evening plan, and answering guests' questions.
Some logistics need to be considered before you begin your tasting. For instance, if it is a blind tasting, how will you serve your wine? Will you decant it, or use a bottle sleeve while pouring? If you are serving red wines, can you decant them so they can breathe for 30 minutes before being sampled? Thinking about this in advance can help you enjoy a stress-free evening.
Is it bad to serve red wine in a white wine glass?
You may think this is a simple question, but the answer is quite complex. While it is not necessarily 'bad' to serve red wine in a white wine glass, there is an intentional difference between the glasses.
Red wine glasses have more depth because it takes longer for the flavour and aromas of the wine to develop. Therefore, rich, full-bodied reds require time to breathe before being served. White wine simply doesn't require the same amount of space or time to breathe, hence why the glasses are bowled in shape.
What are the 5 S's of wine tasting?
See: What colour is it?
Swirl: Have you given it time to breathe and release its aromas?
Sniff: What can you smell?
Sip: Have you taken a small sip and held it in your mouth to taste every flavour?
Savour: What can you taste? The flavour of your wine may develop between sips 
Going Virtual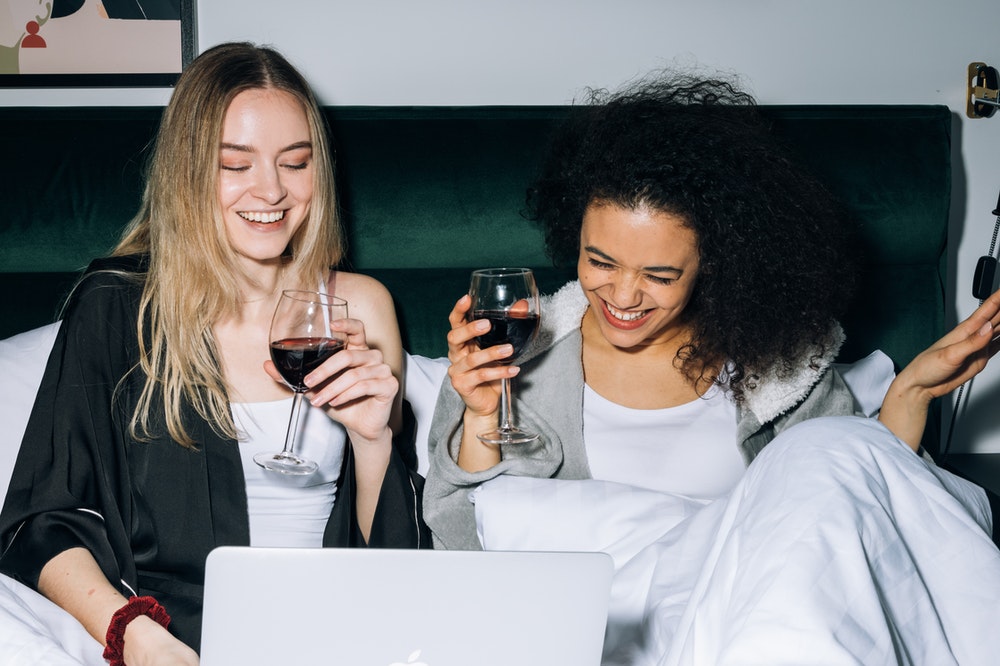 How do you host a virtual wine tasting?
All the above applies to your wine tasting evening, whether you are hosting it in-person or online. The key difference is each attendee will need to supply their own nibbles, wine, equipment, and palate cleansers. Each guest must ensure they have enough glassware and storage space for the tasting.
You can still choose a theme for the evening, whether a region, type of wine or the year the wine was bottled. 3-5 different wine choices should be enough for a virtual tasting designed to last for around two hours.
How does a virtual wine tasting work?
This depends on how you want to organise your event. If you want to ensure everyone is blind-tasting, you and your guests will need to ask someone else to decanter the wine in advance.
If this isn't possible, sample the wines in the same order (more on this later) and score the wine based on its aromas and sensations while tasting. Each participant will need water to cleanse their palate between tastings and bland nibbles such as crackers or bread.
The key point to consider is that everyone has the chance to share their views and get involved. A virtual wine tasting is one way to bring friends and family together, regardless of where in the world they live.
How long is a virtual wine tasting?
Two hours is a good amount of time for a virtual wine tasting.
How do you host a Zoom wine tasting?
Most of us are now accustomed to virtual meetings, events, and catchups via Zoom. Hosting a wine tasting virtually is much the same as any online event – preparation is key!
Begin by choosing a theme for your evening, selecting a date and time, and then invite your friends. Ensure your guests have all the information, equipment, and details they need ahead of the event. Whereas one host may organise and arrange an in-person event, each participant is required to play an active role in a virtual event, such as a wine tasting. In this sense, simplicity is key.
Best virtual wine tastings in the UK?
One of the most popular options in the UK is the Waitrose Wine Tasting at Home Experience, designed for six people groups. There is also a Lockdown List of companies providing virtual tasting experiences – some supply the wine and nibbles as part of the package.
What wines to serve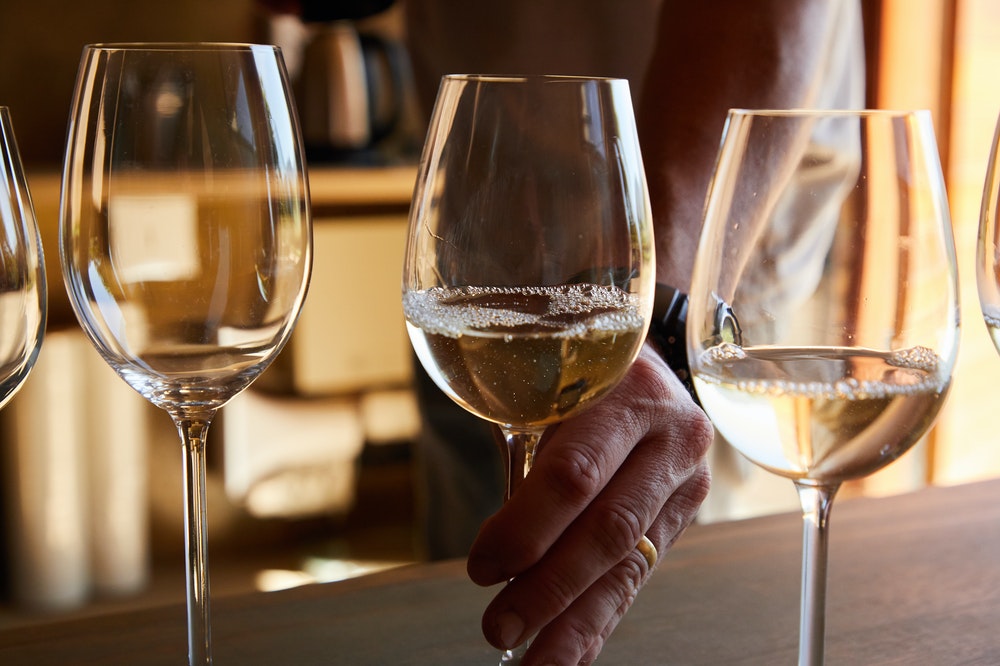 What is the correct order for tasting a wine?
When tasting different wines, a crucial consideration is your palate. You want to keep it free of bold flavours that may affect your ability to pick up subtle aromas of lighter wines. Begin with sparkling wines, whites (dry to sweet), rosé, reds (light to bold flavours), and finish with dessert wine.
What are the main differences between French and Italian wines?
This is a popular question among budding wine connoisseurs. The biggest difference is the grapes that are used and the setting in which they are grown. For instance, you may be familiar with prominent wine-producing regions within France (Bordeaux – Cabernet Sauvignon) and Italy (Tuscany – Chianti).
Differences in climate, soil and weather can all affect the grape. In addition, there are different methods of production that can alter the aromas and overall taste as well as who the wine is marketed at.
Are you planning on hosting a wine tasting event at home? What is going to be your theme?
---
For more information about our large wine rack or cellar design service, please call 01159441434 or contact us via our form.
Please include your requirements and approximate dimensions to provide you with a quote.