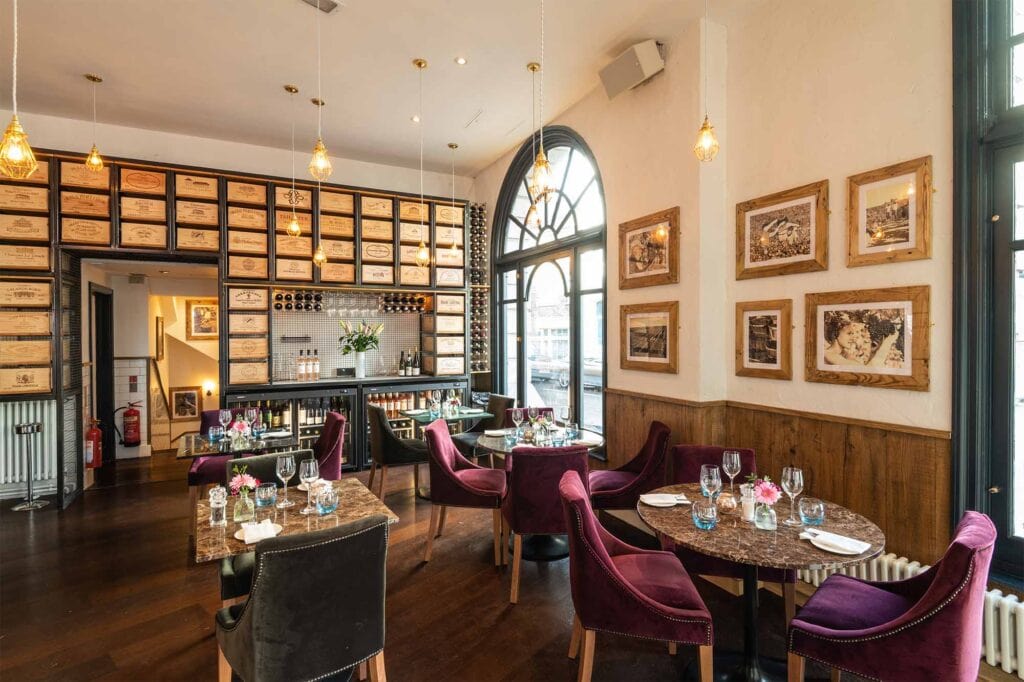 Case Study: Traditional Wine Bar Experience Elevated With Contemporary Wine Rack Display & Storage
The concept of the wine bar is not new. Many people conjure an image of a small, dark, intimate venue with a selection of wines available, and perhaps some nibbles if they are lucky. But one company, with wine bars in popular locations across London and Paris, is changing the very idea of the wine bar.
When the team at 28°-50° contacted A & W Moore Wine Racks UK (Wine Racks UK) and explained their brand vision, Wine Racks UK had the perfect solution to help them. 28°-50° is taking the traditional wine bar experience to a whole new level with its curated wine list, delicious seasonal dishes, and its luxurious, bright, and airy venues.
About Wine Racks
Based in Derbyshire, the team at Wine Racks UK has over 40 years of experience in designing, manufacturing, and installing bespoke wine storage solutions. During this time, the family-run business has gained a reputation for quality products at affordable prices.
We help customers convert damp unusable cellars into beautiful climate-controlled state-of-the-art wine cellars that perfectly preserve wine or Champagne, and we help couples make the most of unused under-the-stairs spaces for wine storage. We've helped business owners from luxury hotels to beautiful countryside restaurants and Parisian wine bars.
Aside from designing the layout, Wine Racks UK advises on everything from cooling systems to lighting options, the type of materials to use (solid oak, solid pine or wood and metal) and storage solutions for different sized bottles. Specialist storage options can be created for wooden Bordeaux boxes to large format bottles, half size bottles and Brandy or Rum.
---
For more information about our large wine rack or cellar design service, please call 01159441434 or contact us via our form.
Please include your requirements and approximate dimensions to provide you with a quote.
Challenges and Objectives
The overall aim of the project was to elevate the existing 28°-50° wine bar venues by enhancing the wine rack storage and display spaces available. The company prides itself on offering far more than the traditional wine bar experience as it hosts Wine Tasting Experiences, Private Dining, and a range of menus from breakfast to lunch and more.
28°-50° offers guests a curated wine list that features 15 red and 15 white wines. The list changes regularly and is endorsed by the company, which guarantees its quality. There is also a Collector's List, which features fine wines from private collectors who have agreed to let the company sell special and often rare bottles from their personal collections. These wines are rarely seen in restaurants.
It was imperative that the wine rack displays reflected the unique proposition offered by 28°-50°. A key challenge faced by 28°-50° was the tight timeframe. It was crucial the works did not disrupt the opening of the locations any longer than strictly necessary.
How Wine Racks UK Helped
The team at 28°-50° knew exactly what they wanted in terms of the size of the case racks, which expedited the planning stage. Wine Racks UK met the tight timeframes for each venue, which helped to keep the overall project on schedule. For instance, there were only two weeks to complete one of the projects, which the team did.
To streamline each project and ensure the key deadlines were met, the units were supplied unpainted, which saved time, as once the bar area had been fabricated, all the metal work was painted at the same time. Wine Racks UK provided customised case racking to enhance the display space available and the overall atmosphere.
Results
The project with 28°-50° was challenging because of the tight turnaround, but the team at Wine Racks UK met each deadline. The result is a sheek consistent look that accurately reflects the 28°-50° brand across multiple locations in London and France.
Wine Racks UK has provided bespoke metal racking and storage solutions to display special wine cases for Restaurant Le Lido in Tresserve, France, 28°-50° Wine Workshop & Kitchen (Chelsea), 28°-50° By Night (Wigmore Street), and 28°-50° Wine Workshop & Kitchen (South Kensington).
For example, the case racking showing the boxes suspended on the wall adds to the ambience of the venue and perfectly achieves the original goal of elevating the traditional wine bar experience at each venue.
What 28°-50° have to say…
To transform your wine bar, contact the team at Wine Racks UK to find out how they can help.