Create bespoke tall and narrow wine racks
Options for a Tall Wine Rack
Not every space in every house is even. Plus many restaurants and hotels are designed to have grand spaces with tall ceilings.
So there are reasons to want a particularly tall, and possibly narrow, wine rack designed and built.
Edwardian buildings are particularly noted for having high ceilings, and these would suit a tall wine rack made of traditional materials. The average ceiling height in an Edwardian house is 13 feet, which is nearly 4 metres high. Many of the old terraced town houses in the London would be the environment that needed a tall wine rack.
Alternatively very modern high value houses tend to have very high ceilings in certain rooms to give them a sense of grandeur. In this case tall wine racks can be constructed from modern materials, specifically to suit the interior design of the new building.
Whatever the type of building you have, one thing you will need for a tall wine rack is a ladder!
A & W Moore Wine Racks UK have the capacity to design, manufacture and fit any size of wine rack in the UK and we can also send them abroad.
---
For more information about our large wine rack or cellar design service, please call 01159441434 or contact us via our form.
Please include your requirements and approximate dimensions to provide you with a quote.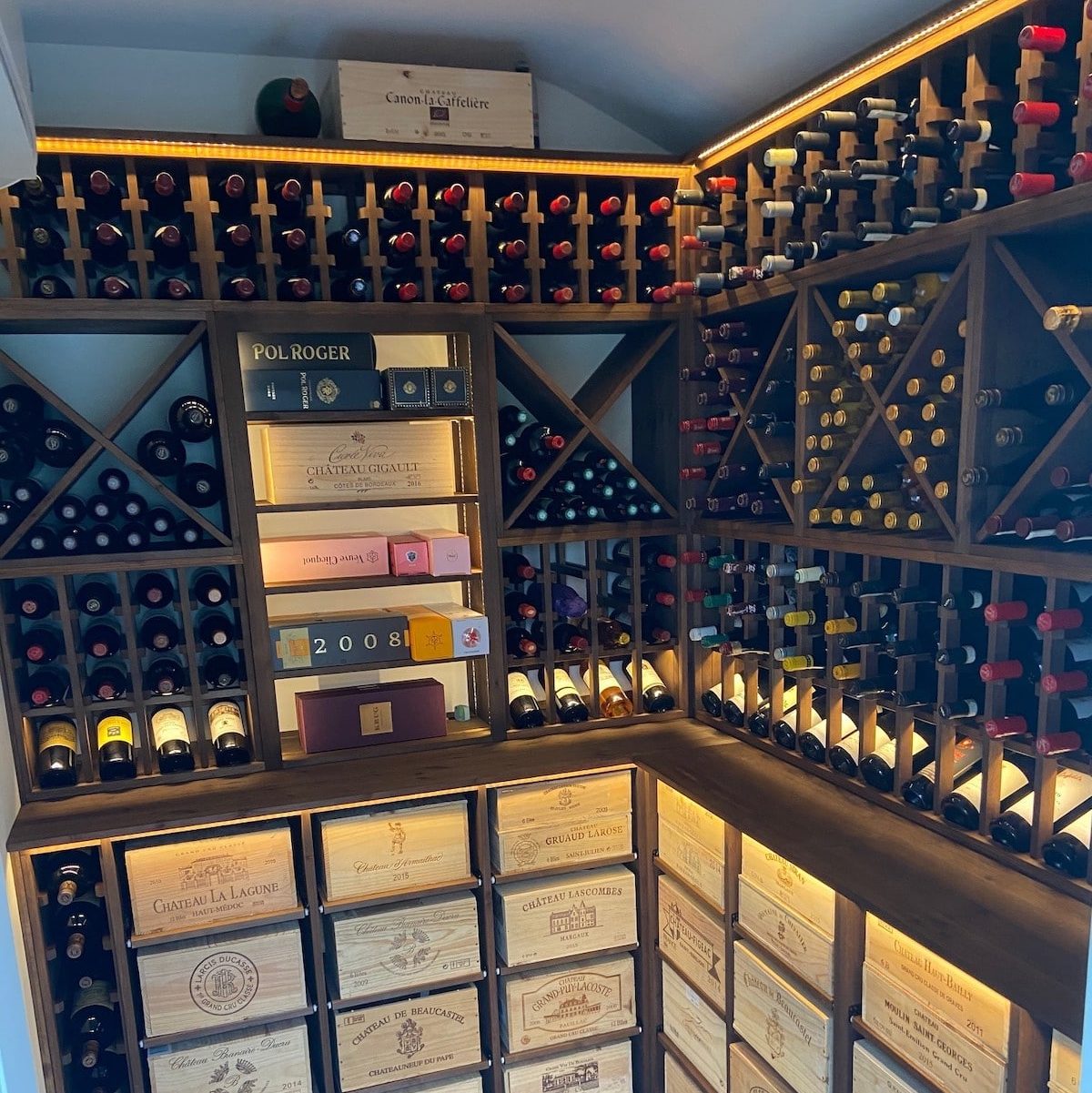 Typical questions on enquiry
1. How tall can a wine rack be?
Is storage required for half bottles, magnum bottles, Jeroboam bottles or any other large bottles, imperials double magnums, wooden cases either 6 or 12 bottle cases.
2. Can you design and build a bespoke tall wine rack?
Yes, we can build to any size, but would need an onsite visit (or detailed drawings and photos) before confirming your wine rack project.
3. What material can you use to build a tall wine rack
More frequently asked questions
What is the process for large made-to-measure custom wine racks from enquiry to installation?
We discuss with each customer their requirements for wine storage as every requirement will be different.
What is the maximum wine bottle capacity for tall wine racks?
We can make the wine racks as tall as is needed to fit the space or the number of bottles required. For safety purposes we will need to consider the height during build and once complete, ensuring no one can get accidentally injured.
What are the size limitations and space considerations when fitting tall wine racks?
We do consider access when designing a project. Wine cellars can cause problems but these typically have lower ceilings. As the racks are made in sections and joined together once in situ we can continue to add to the size of the project. If access is a potentail problem that may impact our quote.
How many bottles can be stored per square metre?
You can store 70-100 bottles per square metre depending upon the design and type of wine rack used. If double depth wine racks are used where one bottle is behind another the capacity is doubled, 140-200 bottles per square metre
Will a taller wine rack be suitable for ventilation and temperature controls?
Heat rises, so there is a potential for a taller wine racks to be less suited to the storing of wine for long periods of time. The temperature difference of a particularly tall room from floor to ceiling may be quite significant, and this needs to be considered at design stage.
Will Champagne bottles or Magnums fit in the wine racks?
We can make special wine racks for magnum bottles and other large-format bottles. The standard wine racks will hold Moet style champagne bottles.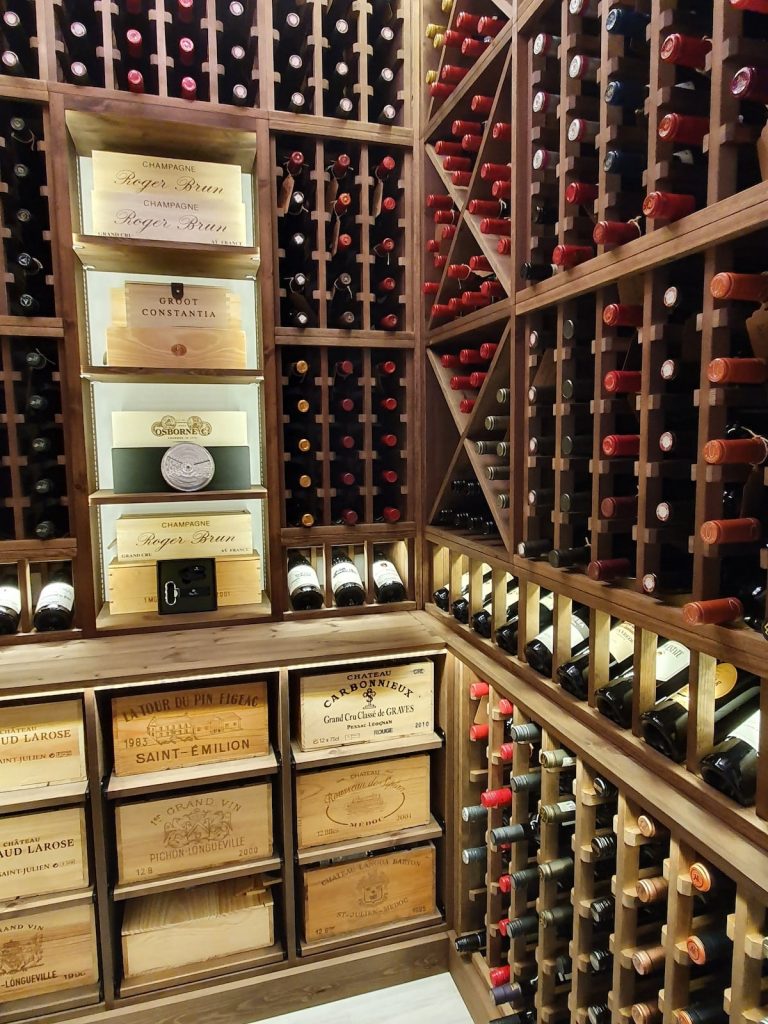 How many wine bottles can you fit into a tall wine rack?
To suit an Edwardian ceiling?
With rooms of up to 4.0 metres high we can imagine a 2m wide wine rack against the wall. This would hold 820 standard wine bottle if they were single stacked with bottle neck protruding.
How about a 3m x 1m tall and narrow wine rack?
A tall narrow wine rack of 3m x 1m would hold 310 standard wine bottle if they were single stacked with bottle neck protruding.
Is there a wine rack calculator available?
The Wine Racks UK website has an excellent wine rack calculator
How high can wine racks be stacked?
Depending upon the design we advise not to go any higher than 3m. If you do you will need access and we can manufacture a ladder to reach the top bottles.
Case Studies
Below are examples of recent large wine racks supplied and fitted by A & W Moore Wine Racks UK.